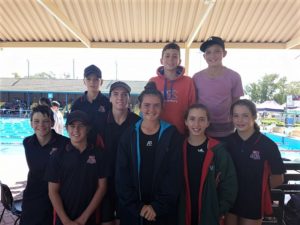 Parkes High School students performed with pride and passion at the Western Region swim titles in Dubbo on 15th March. The swim team, consisting of Olivia Dolbel, Nicayden Greenwood, Jordan and Liam Moody, William Lamond, Geordie Duncan, Gabriel Goodrich, Brookelyn Pinkstone and Archie Rix, performed strongly against
the cream of Western NSW swimmers.
Gabriel, Liam and Olivia swam strongly to claim second place in their 100m breaststroke finals while Nicayden recorded a personal best (pb) in his events to claim a third place in his 100m breaststroke and backstroke finals. Jordan swam several pbs, while William anchored the 200m freestyle team with a gutsy effort to claim third
place. Geordie achieved second places in the 100m butterfly, freestyle and 50m free.
The team enjoyed a great day of swimming, considering the quality of opposition, who converged from all corners of Western NSW. "I am really excited for the team heading off to state. We have improved heaps from last year," said Nicayden Greenwood.
Olivia Dolbel spoke for the team when she was asked about swimming. "I just love it because it is great for fitness and best of all we get to socialise with our mates."
As a result of their efforts, Liam and Jordan, Geordie, Gabriel, Olivia, Nicayden and William have been invited to contest the State Titles at Homebush Aquatic Centre in April.