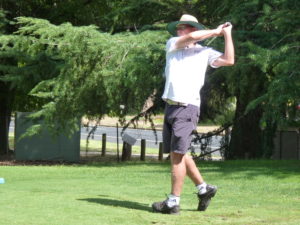 Extremely hot and humid conditions did not stop a good field of players to turn up for last Saturday's S & K Mann Carpet Cleaning Monthly Medal.
In A Grade Mitch McGlashan continued his brilliant form when he fired a superb 3 under par 68 to record the day's best scratch score, while Steve Simpson cleaned up in the handicap section with 76 off the stick for a 67 nett. He topped off a great day by also claiming the Griffins Leading Edge Putting competition with just 24 putts.
In the minor grades Colin Barker claimed the B Grade scratch award with a 12 over par 83, and in the handicap it was Mayor Ken Keith with a solid 68 nett. In C Grade for players on handicaps of 18 plus, Gordon Christie fired 90 off the stick, while John Pearce topped the leader board with a 70 nett. The veterans award went to Gordon Christie with a 71 nett.
The Ladies Leone Stevenson led home a small field with an improved 73 nett.
The Parkes Golf Club hope to continue its brilliant start to the Central West District Golf Associations Pennants when Round 2 matches will be played at Bathurst Golf Club against Cowra on Sunday.
Last week's Round 1 matches saw the locals victorious in three divisions against Forbes, while the no 2 division went down narrowly to Bathurst.
By Paul Thomas