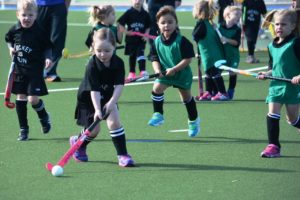 The 2018 hockey season is here with the annual Junior Super Gala and Rego Day tomorrow, 24th March from 9am to 12pm at the Parkes hockey complex. The day includes a free coaching clinic from 9:30am to 11am for kids of all ages over three. There will be a jumping castle, free sausage sandwich for participants, lucky prize giveaways and the canteen and Just Hockey Pro Shop will be open!
Competition start dates are: A Grade & A Reserve (high school) – Wednesday, 4th April; B Grade & B Reserve (primary) – Saturday, 7th April; C & D Grade (infants & preschool) – Saturday, 7th April; all Senior Hockey grades – Saturday, 7th April.
All registrations are to be submitted and paid for online. No paper forms needed. Go to: www.parkeshockey.org.au and click Registration.
Claim your Active Kids Voucher, and only pay the HNSW fee. The fees are the same as last year. For information on registration and the 2018 fee structure, join the Parkes Junior Hockey Facebook group. For further information
contact Cherie Johnstone 0428 843 601 and Glenn Johnstone 0429 600 596.