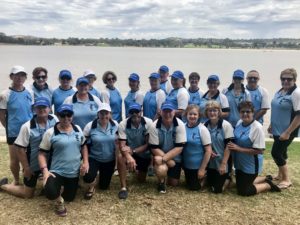 The Forbes Lachlan Dragons raced in all three categories at the Wagga Wagga Dragon Boat Regatta last week with the men, combined with Sudu Dragons of Wollongong, racing a beautiful final to take the third place trophy. The rains fell only on the furthest peripheries and the predicted thunderstorms held off so that the only booming was that of the drums ringing across Lake Albert.
The coaches were very happy with all races. "You all raced extremely well against very stiff competition," said Carmen Stephens. Warren Edwards agreed, saying: "Your power in the boat and your technique was great." The Lachlan Dragons will stay geared up under these two inspiring coaches in readiness for the Canberra Regatta in January.
Back home on Lake Forbes, many new paddlers have been turning up for a try and loving it. Most are returning for another go and some are even joining up as members. If you're looking for a great sport that fits any age, come and give it a go on Thursday evenings or Sunday mornings. Call President, Bill Thomas 041 861 6500; Secretary,
Chris Sweeney 0414 762 775; or message Facebook.
By Beth Thomas