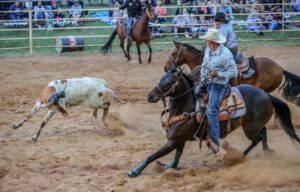 A local cowboy never dreamt a work horse called Jewel N Half that he bought to use on cattle would live up to its name by winning a national rodeo title in his first year of competing.
Tim Childs and his partner Belinda are very proud of their eight-year-old gelding after winning the 2017 Australian Bushmen's Campdraft and Rodeo Association (ABCRA) Team Roping Heading Horse of the Year title. "We are pretty stoked about it," said Tim, who owns a property between Parkes and Forbes where he has a horse trainer facility and his own rodeo arena. "We have been training Jewel N Half for the past three years, but this was his first full year of competing."
According to Tim his horse's performance "was a pretty good effort" considering he is only still a baby. Tim and Belinda spend a lot of time on the road travelling to rodeos all around the country. "We have won a lot of rodeos, but never a national title." ABCRA is the only association incorporating camp drafting and rodeo under one umbrella, and holds an annual competition Australia wide.
Tim takes part in the team roping event featuring a steer and two mounted riders, called a header and a heeler. Tim is the header and he is first out of the chute. It is his responsibility to throw a lasso around the steer's horns and turn the animal back so the heeler can throw his loop around the steer's hind heels.
Team roping events are only considered complete when both horses are facing the steer with both front feet on the ground and with the ropes dallied and tight.
It was love at first sight since the day Tim bought Jewel N Half. When he went to look at the horse he liked the instant he rode him and loaded the same day. He decided to start Jewel N Half in the arena after a few years of work and experience.
"He runs hard and handles a lot of steers with ease and always gives his all, no matter where we are." Looks like a long rodeo career awaits Tim with this diamond performer in his 'crown'.
By Maggi Barnard