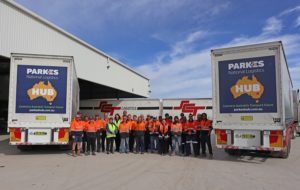 If you are travelling between Sydney and Parkes over the next six months be on the look out for SCT Logistics trucks advertising our town. Parkes Shire Council in partnership with SCT Logistics, has installed truck back advertising
on 12 SCT Logistics trailers that travel daily between Parkes and Western Sydney.
The new marketing initiative is part of the Parkes National Logistics Hub strategic marketing campaign to attract investment from new and existing business operators to relocate to Parkes and take advantage of our unique supply chain solutions.
"The advertising will be in market for six months with the aim to appeal to manufacturing, warehousing, distribution and other supply chain companies in the Western Sydney industrial parks to consider relocation or investment in the Parkes National Logistics Hub," said Council's Economic and Business Development Manager Anna Wyllie.
The Parkes National Logistics Hub is a 600 hectare intermodal estate, uniquely positioned at the intersection of the East/West rail line, the North/South Newell Highway, and the new $10 billion Inland Rail. The campaign dovetails perfectly with the 2018 Inland Rail Conference held in Parkes this week attended by more than 400 delegates.
More information is available in the Parkes Hub Prospectus at www.parkeshub.com.au.