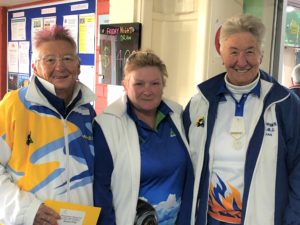 Excellent bowls were played at the Parkes Classic Triples Tournament last weekend. There were 20 teams from as far away as Towadgerie, Lake Cargelligo, West Wyalong and Mudgee. The trying windy conditions added to the skills needed.
The first prize went to West Dubbo with 4 wins +47. Second prize went to Parkes/Forbes team of Jan Waugh, Kim Evans and Pat Cooney with 4 wins +41. Mudgee came third with 3 wins +61, and fourth prize went to Liz Byrne Parkes with 3 wins +45.
It was a magnificent team effort by our members in catering and cleaning, ensuring the day ran smoothly. It was much appreciated by all.
A few brave ladies played social bowls this week in slightly improved conditions. A long end played was won by Di Howell. In two games of pairs played, Di Greenhalgh and Liz Byrne defeated Ros Taylor and Merilyn Rodgers.
Kay Craft and Gwenda Carty defeated Di Howell and Marja Iffland.
There will be no official bowls played on the Parkes Show Day next week, but anyone can turn up and play if they wish.
By Rosemary Mitchell