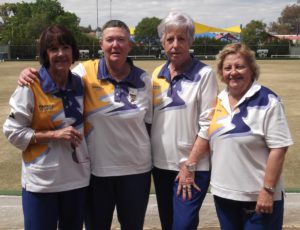 The final of the Club Championship Fours were played this week and was won by Elaine Miller, Brenda Davies, Rhona Went and Liz Byrne. They defeated Marja Iffland, Valmai Westcott, Gwenda Carty and Cherie Frame 27-24 in a great game.
In triples games played Di Howell, Jean Kennedy and Maureen Miller defeated Di Greenhalgh and Merilyn Rodgers. Lorraine Baker, Margaret Hawken and Kim Evans defeated Kate Keogh, Frances Charlton and Rosemary Mitchell.
The minor singles will commence on 10th October with the draw as follows:
Lorraine Baker v Eileen Bradley; Chris Curteis v Frances Charlton; Kate Keogh v Marja Iffland; Kim Evans v Maureen Miller.
The draw for the minor pairs:
Isabell Svendsen, Eileen Bradley v Lorraine Baker, Kim Evans; Marja Iffland, Maureen Miller v Frances Charlton, Chris Curteis.
Melbourne Cup day will be mufti dress, fun attire to be worn.
As daylight saving has commenced please ring table selectors Gwenda Carty and Di Greenhalgh between 8:30am and 9am, for play at 9:30am. Social roster is Laurie Keane.
By Rosemary Mitchell