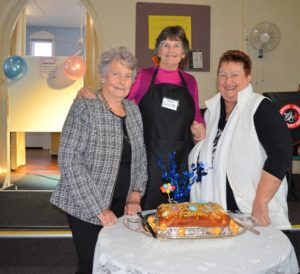 An uplifting comment from a family member was all it took for a seed to be planted that would grow into a flourishing community fellowship café.
Last Saturday the Soul Café celebrated its fifth anniversary with more than 40 people enjoying not only good conversation but excellent home-made slices and other organic delicacies, freshly ground coffee and of course birthday cake.
When Carole Corbett saw how churches were being converted into cafes and eating establishments on her last pilgrimage to the British Isles, a spark was ignited to do something similar in Parkes. "I've been cooking since childhood, and used to invite the sheep shearers for a daily lunch in our home in Trundle."
She also remembered a comment by her aunt that she had a gift for organising and she should use it to the benefit of the ministry. She had no trouble getting the green light from the parish council to start a café in the St Georges Church Hall and on 3rd August 2013 the Soul Café opened its doors.
Twice a month, on the first two Saturdays, the Soul Café offers patrons a delicious and very reasonable menu, all made by Carole, but also a convivial atmosphere where people can relax and chat for as long as they want to. "The beauty of it is that even if you come alone, there will always be someone to talk to."