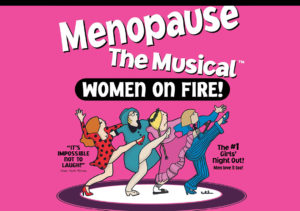 Inspired by a hot flush and a bottle of wine, Jeanie Linders created Menopause the Musical as a celebration of women who are on the brink of, in the middle of, or have survived 'The Change'. Since its first performance, the show has evolved as a 'grassroots' movement of women who deal with life after 40.
Could 500,000 Australian women be wrong? That is how many have seen this one act laugh-a-thon show of 90-minutes over the last two and a half years. One attraction is the songs that everyone grew up with – The Great Pretender, Only You, The Lion Sleeps Tonight, Stand by Your Man, I Will Survive and twenty more with 'new' lyrics. Or maybe it is the realisation there is a wonderful life waiting after 'The Change.'
Come and see for yourself. You will leave the theatre uplifted and joyous. See page 1 for dates and locations. Head online to www.abstractentertainment.net to book your tickets today.