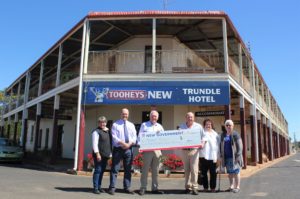 For the past six years Trundle residents have put in hours of hard work and this week they were rewarded with $100,000 to help restore the second longest hotel balcony in Australia.
Parliamentary Secretary for Western NSW, Rick Colless handed over the 'massive' cheque at the Trundle Hotel to Andrew Rawsthorne, Grants Officer for the Trundle & District Progress Association.
This grant will see the remaining 60m of the 90m balcony at the Trundle Hotel restored, as well as a derelict unit on the first floor that will be used to support an artist in residency program.
According to Andrew community members banded together in 2011 to start the Trundle Main Street Rejuvenation. "Over the past six years 95 volunteers have given more than 1,500 hours of their time to give the town a face lift."
In 2011 almost 50% of the shops in the Trundle Main Street were empty. As the renovation work has progressed, new business started up again including the first pharmacy in Trundle since 1976; a Bowen Therapist/ B&B; an arts shop, a physiotherapist; a new Landcare office, new shop for the Trundle Royal Far West Sub branch, a revamped hardware shop, a new Food Works supermarket and a new picture theatre/art gallery in the former Trundle Post Office.
"This is a very strong result for a small community of 750 residents," said Andrew. So far 75% of the shop fronts have been repainted, every veranda repaired, original signage repainted and extensive work carried out on the Trundle Hotel. A hotel has been operating on the site since 1888, and in 1912 the current hotel was built. By 2010 a large section of the balcony was closed off and the overall the hotel was in a dire state.
Things radically changed when Dannielle Ward, a former resident, bought the hotel in 2010.
By Maggi Barnard