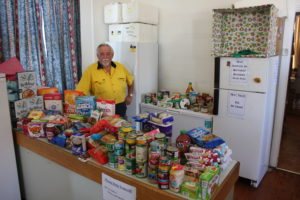 The Christmas spirit of giving brought a lot of joy to the volunteers at Georgie's Pantry this week with a big donation of food from the Christian School. Bill Dudley, who has volunteered at the shop for the past four years, was very grateful for the donation that boosted the shop's supplies tremendously.
The shop was started by St George's Anglican Church, and opens every Thursday for Parkes residents on pension and health care cards. "We have up to 30 people coming in every week," said Bill. "They are able to fill up a big basket of groceries for $25 and also buy a meat tray at cost price."
The money earned is used to buy new stock for the shop. According to Bill the project would not have been viable without the donations from Aldi and Woolworths of fresh produce, the meat trays Buttabeef Butchery provides at cost price and occasional donations from the public. Bill also buys stock from the Foodbank in Sydney.
"We made 70 Christmas hampers for distribution to needy families this year," said Bill. His dream is to one day get a caravan to provide a free meal every night to those in need. "But we first need a lot more volunteers," was his Christmas wish.
Georgie's Pantry at 45 Currajong Street is open every Thursday from 10am to 4pm. The last day this year will be Thursday, 21st December and reopens the first Thursday after the Elvis Festival.