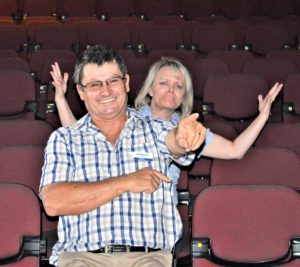 Soon you will be able to sit anywhere in the Parkes Little Theatre and have a clear view of the stage, thanks to new tiered seating being installed later this year.
The Little Theatre, with the help of Parkes Shire Council, has been successful in obtaining funding for the seating upgrade and refurbishment through the Stronger Country Communities Fund (SCCF), as announced by Rick Colless, Parliamentary Secretary for Western NSW last Monday.
"The theatre will undergo a major upgrade with the installation of a raked floor and theatre style plush seating, including specialised plans for mobility impaired and bariatric patrons," said Lyn Townsend, President of the Parkes Musical and Dramatic (M&D Society. As the construction in the theatre will impact on the foyer of the theatre, it too will require refurbishment. The grant has allocated $162,000 to the project, with the expectation of up to $250,000 to be spent on the theatre, with Parkes Shire Council contributing the excess funds.
A works coordinator at the Council has been appointed to oversee the project, with tenders soon to be sent out to prospective contractors. Construction will start on 1st July, following the season of Motherhood the Musical.
The Council is anticipating completion of construction by early spring. "The Society will perform a gala concert series in the last two weeks of October to celebrate the upgrade, recognising the magical musical moments at The Little Theatre over the past 17 years," said Lyn.
By Lisa Ramsay