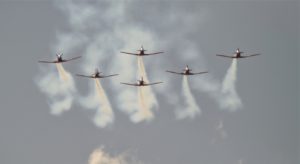 Last Saturday, over 2,000 people flocked to Parkes Regional Airport to watch the amazing air displays organised by the Parkes Aero Club to celebrate their 70th anniversary.
There was some slight concern for the weather after the dust storm on the Friday evening, however Saturday turned out to be a beautiful, sunny day, if only a little too windy at times. "We were very fortunate, the gods were with us," said Warwick Tom, club member and one of the event organisers.
"We are tickled pink, it was such a good crowd," said Warwick. "The flying displays were great." The flying program opened with a parachute jump conveying the Australian flag, then the RAAF Roulettes performed formation aerobatics, wowing the audience with their daring and polished flying feats. Further aerobatic displays in a variety of aircraft continued until 2.30pm, including Paul Bennet in the Wolf Pitts Pro.
Aside from the air shows, there were also on-ground displays of antique cars and aircraft, as well as information booths, food stalls and attractions for children including a jumping castle. The HARS Museum was a popular attraction for families, community groups and aircraft aficionados, with a variety of historic aircraft set up in the field beside the hangar, allowing people to board and inspect them.
"We had lots of support. The event went well because of the number of supporters, including the Royal Australian Air Force Roulettes, Paul Bennet Airshows, the Parkes Aviation Museum & Historical Aircraft Restoration Society, as well as the cooperation of the Parkes Shire Council and other event partners," said Erik Lensson, President of the Club.
If you're interested in learning to fly an aeroplane, contact the Parkes Aero Club to discuss the possibility of trying a Trial Instructional Flight. Visit the website at http://www.parkesaero.com.au/ or check out the Facebook group.