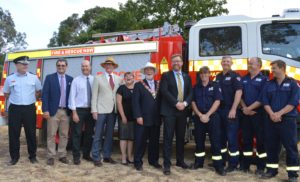 With a crew of 18, Parkes firefighters have found the quarters at their 94-year-old fire station a little tight, especially when getting dressed for a call-out. Thankfully, after an extensive search to find a site for the new fire station, the NSW Government has been able to purchase the block that sits behind the current fire station, on Hill Street. The NSW Government's 2017-18 Budget included a further $150,000 for the purchase of the land, following a $250,000 investment in the 2016-17 budget.
Troy Grant, Minister for Emergency Services, visited Parkes last Wednesday to announce the purchase. "I'm extremely proud the NSW Government is investing in the safety of our region by providing our firefighters with the latest equipment and resources," Mr Grant said.
"Our firefighters do an extraordinary job, often under enormous pressure and a new fire station will give firefighters in Parkes the facilities they need to continue their vital work for generations to come."
The design and initial ground works for the new FRNSW station are planned to commence later this year with the project expected to be completed in 2019. Parkes Captain, Craig Gibson, expressed his hope that the existing heritage building may be kept, and the space perhaps utilised for a meeting room, as well as a museum.
"The new Parkes station will be state-of-the-art and designed to ensure our firefighters are fit and ready to do their job effectively," Mr Grant said.