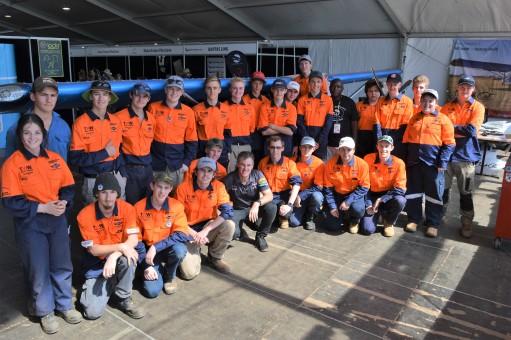 The high energy air show at the three-day AirVenture Australia event at the Parkes Regional Airport last weekend was a thrilling day for hundreds of visitors.
The show was closed by the 2019 Red Bull Air Race World Champion, Matt Hall for his first public appearance since becoming world champion. Matt flew his unique race plane at 450km/h down the runway, did 12-G turns, hovered the plane, made tumbles and made it go backwards.
On Friday Matt took time out to meet fans and also the 25 high school students who set a new world record building a BushCat aircraft in less than a week. "You've done something I've never done – build a plane!" he told them.
Answering questions from the group that included many trainee pilots, he told them about his exciting life because of aviation, and how hard work has brought him to the top of his game.
Matt said winning the world champion title was more of a relief than elation as he had been so close to getting it for 11 years.
He did his first solo flight 33 years ago, and was first an air force pilot for 18 years before turning to air racing. "I don't do air racing because I'm an adrenaline junkie.
I never get an adrenaline rush, if I do it means I'm beyond my capability. I remain dead calm and could be whistling while doing it."
By Maggi Barnard