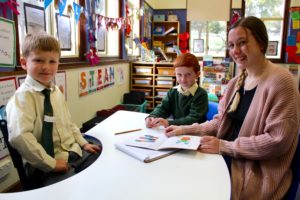 The magic of reading books is one of life's guarantees, and a new project in Parkes aims to help schools to impart this power to students.
The Book Buddies project is looking for volunteers to spend time at any of the schools in Parkes to help students with their reading.
Initiator of the project, Peter Guppy said he was motivated to do something after realising how many adults there were who could not read. "So many kids have no books at home. With this project we hope to get kids to love books and help them on their way."
The beauty of the project is that it works both ways. "There are many older people whose grandkids are far away who would love to spend time with children," said Peter. But anyone with time on their hands are welcome to join.
One of the first people to sign up was Jessica Kinsela who is in her gap year. "I want to go into teaching and thought it would be a good idea to do this." Jessica chose to volunteer at her alma mater Holy Family and has started going there every Tuesday to help out. "I think it is a very good idea and would encourage more people to do it. It is very good for our community."
According to Peter the reaction from all six schools in Parkes has been terrific. "They definitely want volunteers to come and help."
Application forms and further information are available at the library. The first step would be to apply for a working with children check, which is free for a volunteer. Contact Peter Guppy on 0448 166 016 or pbguppy@ gmail.com if you have further questions.
As Frederick Douglass said: "Once you learn to read, you will be forever free."
By Maggi Barnard