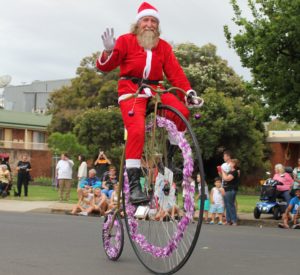 Santa on a penny farthing, a boy in a present, dogs dressed up, angels, elves and a sea of red and green…Parkes put its festive hat on last Friday when hundreds of residents turned up in their Christmas colours for a night of celebration. The Christmas Street Parade returned with an eruption of colour and joy after a two year absence with more than 30 floats and hundreds of children and adults flowing onto the streets around Cooke Park and hundreds more people filling the sidewalks to watch.
Cooke Park, almost bursting at its seems, hosted over 60 stalls for the Sparkle in the Park Upmarkets displaying many gift ideas, and a good selection of food and drink. A social festive atmosphere prevailed as kids enjoyed the jumping castles and fun rides or just running around the park, while the adults settled on their picnic blankets and chairs to watch performances by the Parkes School of Dance and local duo, Salt to the Wound. As the sun was setting on the cheerful gathering, the Sparkles Illuminations, the biggest and brightest yet, were switched on. Buildings and shops were turned into a colourful canvas of Christmas-themed light displays. Twelve light installations and projections transformed Court Street, Clarinda Street and Cooke Park into an outdoor Christmas exhibition.
The lights will come on every night until Boxing Day, and will then change for the Parkes Elvis Festival with a Viva Las Vegas theme. The festivities in Cooke Park ended with the outdoor cinema screening the Christmas classic, The Santa Clause. "The Action Club is keen to stage the parade again next year as we feel the community is in favour of it," said Staffod Orange of the Action Club. "It's an opportunity for groups, schools and businesses to show case themselves." He said they were getting very positive feedback, and the large crowds lining the streets were a good indicator of its popularity.
Stafford said: "The Parkes Action Club would like to thank the Parkes Shire Council for supporting the 2016 Christmas Parade, as well as everyone else who helped to organise and who took part." Many people would agree with the Parkes Mayor, Cr Ken Keith, it was a night filled with favourite family activities.
By Maggi Barnard