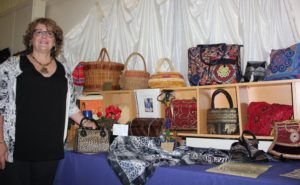 "I didn't really set out to collect handbags – it just happened!"
Janine Hando was the main exhibitor at All Things Handbags at the St George's Hall last Saturday. The 73 bags she put on display added to a collection of miniatures by Rhonda Dunn, the Historical Society's interesting pieces and many other bags from individuals, each with its own story.
Janine said she was a keen op shopper and usually browsed the handbag section. "I like unusual bags, but there are many things that draw me to a bag. It could be the colour, a lovely handle, a nice pattern, unusual shapes or sparkles." She has hardly ever bought a bag brand new, and her favourite every day handbag she got for $1 in an op shop in Moruya. It was made in India from
buffalo leather and has accompanied her on many trips.
Norma Garment, one of the organisers of the event, dug up the handbag she got when she was 11 for the Queen's visit in Newcastle. "When I opened it up I found three toys inside."
Other unique exhibits included a pure silver handbag from late 1890, a tiny mother of pearl bag with Chinese painting on it and a beadel bag that belonged to well-known radio personality and actor, Gwen Plumb.
The Parkes Newsagency donated a leather handbag for the raffle, and put on a fashion show of its handbag collection, while ladies enjoyed scones and tea.
By Maggi Barnard