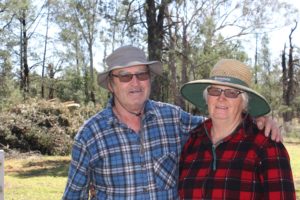 Ellie and Bernie Hetherington's property was a battle-zone after Friday's storm. The Hetheringtons operate a community garden and nursery from their property to raise funds for CanAssist. The storm tore through their property last Friday, upending some trees and ripping others in half. During the brief tornado-like storm tree-trunks, branches and debris hurled around their place. "We've lived here for 48 years, and have never seen a storm like it," Ellie said. "It was really quite frightening."
A tree fell against their house, many of their shadehouses were destroyed or torn apart, the chook pen was knocked
on its side, and their terrified ponies were trapped in their stables by fallen timbers. The poor creatures were so traumatised they couldn't be coaxed back in. The huge hailstones left dints in their house siding, and even punched sizeable holes in the laserlite roofing. Remarkably a fallen tree narrowly missed their new glass-house, but still damaged fences.
With branches, wood, and debris everywhere, it was impossible to walk through their yards. This was a problem as they were meant to be one of the gardens open to the public on Sunday. But instead of visitors, they were swamped
by helpers. Neighbours Bec and Dooley Thomson came by to offer a helping hand.
After a quick inspection they realised it was a huge job, and put out a call for help on Facebook. Shortly after about 20 people rolled up their sleeves and helped Ellie and Bernie restore their treasured garden. Dooley carted loads away in his tip truck, and another neighbour turned up with a bobcat and started clearing the back paddocks. "I can't get over the generosity of people," Ellie said, "They were all young people, too. It would have taken us two or three months to do what they did in one day."
By Raen Fraser