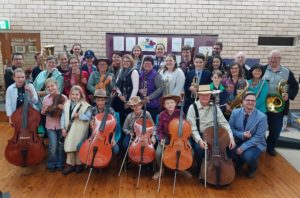 Three local music groups combined their musical talents last Wednesday for an unusual performance of Waltzing Matilda. Members of the Lachlan Regional Orchestra, Parkes Shire Concert Band and Forbes Town and District Band met at the AOG hall to put together a recording of the legendary song which will contribute towards a final video performance on the big screen at Federation Square in Melbourne on 12th September.
This final performance will be a compilation of recordings from individuals, schools and community groups from around Australia, all playing Waltzing Matilda. The idea is a new online initiative of the Australian Music Examination Board to create the AMEB Online Orchestra. The recording process was a lot of fun, and a rare chance to put together a really diverse range of instruments (and musicians) for a common cause.
Sincere thanks to Darren Mann for doing a superb job of sound recording, to James Whalan for conducting the orchestra, Jen Kelly for the video recording, and Robbie McFadyen and Jen Kelly for organising tea and vegemite sandwiches.
Members of the three groups are all keen to find other opportunities to combine together again soon.
By Pam Parkin