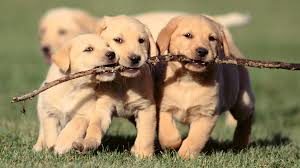 Puppies are currently a popular pet option for residents of Parkes.
Parkes Pet Barn stocks the only dog food on the market that contains colostrum, an important nutritional supplement for young puppies. Colostrum contains all the immune factors necessary for protecting a newborn from bacteria, allergens, toxins and viruses.
The first year of your dog's life (or two years for large breeds) is crucial to their long-term health. During this period your puppy requires the most advanced and efficient combination of nutrients to help them attain optimal health by developing their immune and digestive system, skin and coat, as well as help them build strong teeth, muscles and bones.
The Purina Pro Plan Puppy with Optistart range for puppies was inspired by scientific research and discoveries around how to improve immunity in puppies. However, the Purina Pro Plan range of products are also available and customised for dogs of all sizes, all life-stages, and for dogs that require specialised products.
To support you to achieve your activity and weight goals for your dog, feeding amounts are clearly stated on the pack, however these can be adjusted based on your dog's weight level and health. To help your dog maintain an ideal body condition, monitor your dog's weight on a regular basis, making sure that their ribs are easily felt, and their waist is visible when viewed from above. Maintaining an ideal body condition can benefit your dog's lifelong health.
Visit Parkes Pet Barn to find out more about the Purina Pro Plan range. The store also stocks a range of products and accessories for all your puppy needs.