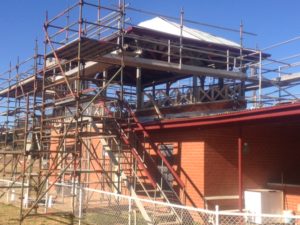 The current dry conditions should ensure the annual show meeting of the Parkes Jockey Club is set to take place tomorrow. The event is always run on the weekend before the Parkes Show, but has been washed out for the last two years.
It is a five-race meeting; non-TAB, however there will be TAB on course with oncourse bookmakers. Parkes Farm Centre, is a new sponsor on board, with three races, while the usual sponsor Tony Miller's Windscreens and the Parkview Motel have races too. The owners of the Parkview Motel named their race Happy Birthday Millie after their daughter who recently turned 18.
As the large grandstand/bar/kitchen area are still being repaired, the Rural Fire Service has stepped up again and will provide a scrumptious barbeque lunch. While waiting for approval for the grandstand to be resurrected, the club is in the process of refurbishing the small grandstand and jockey room with a new roof, replacement of certain structural supports and new seating and flooring.
While moving cupboards and furniture around for the builders two old cups were discovered. The big King Merino Cup and the smaller Peppin Cup. It is believed the King Merino Cup was originally sponsored by Dalgetty's Austop
when they first opened. It was one of the first TAB meetings run on a Monday and as far as it is known it was only run three times. The last winner was in 1996, a horse called Wave Hello, trained by well-known trainer Leanne Aspros and ridden by local jockey Jamie Whitney.
By Mark Ross