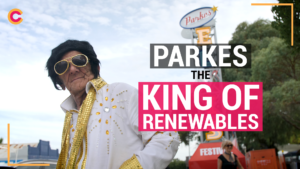 Take 20,000 Elvis Presley fans, add 200,000 solar panels and a whole lot of sheep, and what do you get? Parkes not only plays host to Australia's largest Elvis Festival, but is now also aiming to become the 'King of Renewable Energy'.
The Climate Council released a video last week celebrating Parkes' progress as a renewable energy powerhouse, against the backdrop of its iconic Parkes Elvis Festival. According to the Climate Council release the Parkes community, hit hard by the millennium drought, started looking at renewable energy more than a decade ago. We
were a founding member of the Climate Council's Cities Power Partnership, and was one of the biggest and earliest adopters of rooftop solar in the country.
Getting us well under way to adopting the title of 'King of Renewable Energy' is the recent switching on of the 55MW solar farm powering more than 20,000 local homes. "We are delighted to be showcased in The Climate Council's latest social media campaign," said Parkes Mayor Ken Keith.
"The Climate Council capitalised on this year's Parkes Elvis Festival, producing a light-hearted video about our solar successes, but with a serious message about climate change."
The video, filmed during the Elvis Festival, features the Mayor, a local solar energy champion and farmer, in one of his famous Elvis outfits talking about why it's "Now or Never" when it comes to taking steps to tackle climate change in regional and rural Australia.
Climate Council Acting CEO Dr Martin Rice said the enthusiasm of the Parkes community for solar power was a great example of the grassroots energy revolution sweeping regional Australia. "Parkes is already world-famous for its Elvis Festival, but today it's building a big reputation as a major centre for renewable energy innovation", he said.
"It's time for a little less conversation and a little more action on renewable energy in this country, and towns like Parkes are showing us the way forward." Mayor Ken Keith added: We, as a community and council, will continue to take as much action as we can to embrace renewable resources."
The Climate Council is Australia's leading climate change communications organisation. The council provides authoritative, expert and evidence-based advice on climate change to the media, policymakers and the wider Australian community.