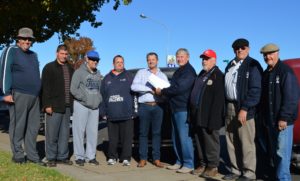 The kindness and goodwill of our community was once again on display this week when the Parkes Antique Motor Club handed over a donation to Currajong Disability Services (CDS).
CDS CEO Jeff Evans received a cheque of $675 from President Tony Horsington following the club's extremely successful Autumn Run earlier this month. "We had 135 pre-1931 vehicles all the way from Melbourne and up to Brisbane, which has been described as the biggest collection of this age car in the memory of participants," said Tony. At the event's dinner, attended by 260 people at the Parkes Services Club, patrons were very generous in
buying raffle tickets with all proceeds going to the Club's chosen charity, CDS.
Tony said the successful event received many positive reviews and participants said it was excellent. For CDS the support from the motor club is also very valuable. "It is amazing how local community clubs support each other in Parkes," said Jeff Evans on accepting the cheque. CDS is a leading provider of NDIS services in the Parkes Shire and surrounding areas, and provides a diverse range of disability services including, centre-based and in-home support services.