Marley and Charles were among the winners of the 10th Annual Anzac Writing Competition.
Poppies to Remember
Poppies to remember
The soldiers that fought in war
They battled for our freedom
To save us all
All of the soldiers
Who fought for our land
And the nurses
Who gave them a helping hand
Remember them all
The women and men
That died for our country
So we can now stand
The families who waited
For their loved ones to return home
Some would make it
And others were remembered in a poem
We all have ANZAC
In our heart
By remembering the soldiers
Who did their part.

By Marley Paton (11)
Bogan Gate Public Schoo
Coming Home
As you march to the front as brave as could be
I keep wishing you were here with me.
We're shearing silently in the barn
Still working hard to save the farm.
By the end of the week, we're selling stock
Not getting much return for the flock.
We feel like we are in a struggle
It's winter now, so cold, we huddle.
We're losing money, it's not much fun
All we afford is half a warm bun.
Everything's dull and black as the moon
I'm missing you Dad, I'll see you soon.
I hope you return to the great Central West
And I sure know that you ANZACs are the best.
I know the gunshots must be so loud
I want you to know you've made us all proud.
The drought has come and ravaged our home
The red dust covers everything we own.
But from the grain fields you all came
Our own brave ANZACs the very same.
The crops are growing on the fields
But war is dreading the deadly battlefields.
From plenty of families we have met
We all line up 'Lest we forget'.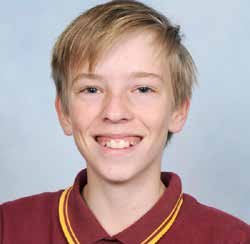 Charles Anderson (13)
Trundle Central Schoo