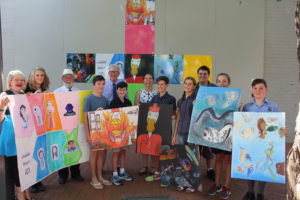 A beautiful thing is never perfect, at least that's one message from the latest exhibition on the Community Cultural Wall.
A raging duck, tranquil sea creatures, and an elaborate space-scape are juxtaposed in the installation on the corner of Clarinda and Church Streets. The vibrant and engaging artworks represent the political and lyrical perspectives of a new generation of artists.
Twelve local youths participated in the art program, Journey into Mystery – Horror, Science Fiction and Fantasy Art, which was hosted by Parkes Shire Library.
Parkes Shire Council's Manager of Cul- tural Education and Library Services, Shellie Buckle said the artworks captured what young people were thinking and worrying about.
The participants' inspiration was wide- ranging; from international politics, the
Parkes Radio Telescope, to the concept of inner-beauty as portrayed in popular culture.
Art teacher and art therapist, Maralyn Nash said one of the objectives of the art classes was to connect with young people. "We had many discussions about their vision for the future and these ideas were used to create the art," she said. "They're very talented artists. They were a super intelligent group, and they were all very skilled drawers."
Dozens of art lovers of all ages attended the unveiling on Wednesday, which was officially opened by Mayor Ken Keith OAM.
The Community Art Wall is a temporary exhibition space, which features community artists, and is part of Council's Public Art Program, bringing vibrancy to our main street.