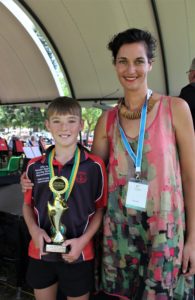 Sportsperson of the Year: Talesha Quinn (rugby league). Talesha represented Australia at the Women's World Cup.
Junior Sportsperson of the Year: Ryan Dunford (cricket, athletics and hockey). Member of the PSSA winning hockey
team, captain for Western Region and played for NSW. Represented Western in athletics and went to State. Member
of school cricket side western region winners. Named Western Region's player at the State carnival. Parkes Public
School sports person of the year.
Sporting Team of the Year: Parkes Public School Boys Hockey Team. The team finished first in the state primary
school knock out competition with over 90 teams participating.
Senior Sportsperson or Team: Troy Dickson (water skiing). He broke records in New Zealand's Bridge to Bridge, and
is currently the world record holder for that distance. Placed second in the Australian National Championships with a broken foot; third in the Australian National Championships; first in the ACT/NSW Country Masters speed ramp;
third at the Catalina Classic Long Beach California 3rd Skier Masters, and is the NSW State Champion in the Masters
Marathon division.
Coach, Trainer or Manager of the Year: Glen Johnstone. Some of his achievements include coach of Parkes
O35 Women's Hockey Masters Team – Division 1 Half State Champions; Assistant Coach Hockey NSW Centre of
Development program; Recently gained Level 2 National Coaching Accreditation
Referee, Umpire or Official of the Year: Carlton Magill. Carlton officiated locally, in Premier League and at State
and National level for school sports and at the national schools championships in South Australia.
Long Service and Dedication in Sport: Greg Duffy (OAM). In recognition of Greg's more than 30 years on the
Parkes Sports Council and his contribution to cricket.
Administrator of the Year: Derick Hoe (Rugby League). Group X1 president; Western Rams and NSW Country Selector
Ron Harrison Sports Bursary: Maddison Spence (cricket)