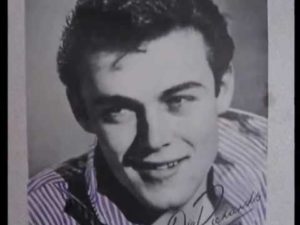 Digby George "Dig" Richards will be posthumously honoured at the Elvis Wall of Fame at the Kelly Reserve in Parkes next Wednesday in one of the first events of the 25th Elvis Festival. Dig will join 22 other Australian music legends on the Wall of Fame. The ceremony at 2pm will be followed by The Wall of Fame Show in honour of Dig at the Parkes Services Club at 4pm.
Fellow Wall of Famers Rob E.G., Little Pattie and Lucky Starr will perform, as well as Dig's brother Doug Richards, who played with Rob E.G. and Lucky Starr and lives in Parkes these days. "I am looking forward to the show," said Lucky Starr. "It's been a long time since I've worked with Rob E.G. and Doug." He said Dig was his best mate and his inclusion on the Wall of Fame has been long overdue. Dig was best known as lead singer of the R'Jays and their first single, I Wanna Love You, was written by Dig's 15-year-old brother, Doug. The song peaked at no. 7 on radio station 2UE's Top 40. The group's second single, I'm Through, also penned by Doug, reached the Top 40 shortly after.
Dig became one of Australia's first wave of Rock 'n Rollers, and one of the Top Five Australian Rock Superstars of the 1958/59 era with Johnny O'Keefe, Col Joye and Joynny Devlin. Dig, Rob E.G. (Robie Porter) and Johnny Devlin were billed together as The Rat Pack and became an institution on Saturdays in Sydney.