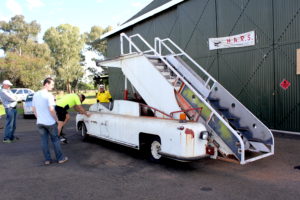 The Parkes Aviation Museum boasts two new attractions; a Convair that landed at the museum late last month, and set of air-stairs arriving last week.
The Convair has only just retired from a long career in the skies. It is a twin propeller craft that first flew in 1947, and was operated across Australia the following year.
The Convairs can be quickly modified to accommodate passengers, or freight, or both. It can accommodate between 32 and 50 passengers in its roomy cabin. As a full-cargo freighter it can transport supplies to the most challenging destinations, and can handle a range of runway conditions. Some have even been used as a water tanker for fire-fighting.
The newly acquired air-stairs are a less obvious, but no less exciting, exhibit. The air-stairs were designed by Qantas in the late 1950s to complement the Boeing 707 jet airliners. The hydraulic stairs were made with Ford car components, and essentially look like a vintage car that has been equipped with a ladder. They were driven right up to the aircraft to access the passenger door.
The Parkes' new air stairs were acquired from Kalgoorlie in Western Australia and delivered to the museum by Wayne Jones Towing. Probably one of their most unusual loads!
The air-stairs are in rustic condition, but will be restored by volunteers and eleven students from Parkes High School.
The students are learning the ins-and- outs of aircraft restoration as part of the high school's ACES Program. The school teamed up with the Historical Aircraft Restoration Society to give the students the opportunity to get practical experience in a hangar.
This is the first term for this program, and instructor Terry Job believes it is off to a flying start. "Some of the students have really been putting a lot of work into it," he said. "It's also a bit of a history lesson, and it's great to see them so interested and engaged."
The students have already made good progress refurbishing the interior of a De Havilland Heron aircraft and spray-painting the fuselage of a vintage Lockheed Electra.
A reconfiguration of the Convair is also being planned. Mike De La Hunty, of the Historical Aircraft Restoration Society in Albion Park, said they hoped to uncover the original passenger seating of the Convair. Once refurbished the Convair will go on public display alongside the Vietnamera Caribou.
By Raen Fraser