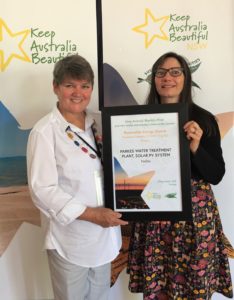 The awards cabinet for Parkes Shire Council's new water infrastructure project is filling up fast with three more added to the collection last week. Parkes walked away with the Project Management award at the 2018 Institute
of Public Works Engineering Australia conference, and was recognised for environmental and community benefits at the Tidy Towns Sustainable Communities Awards in Orange.
Parkes Shire Director of Infrastructure, Andrew Francis said: "Infrastructure delivery doesn't come easy – especially when it involves a major overhaul of a town's entire water cycle infrastructure. We wanted to ensure the projects not only delivered water resource improvements, but also maximise economic benefits to residents and ratepayers."
In Orange last weekend Parkes was presented with the Community Spirit and Inclusion Award for the Water and Sewage Treatment Plant Community Open Days, as well as the Renewable Energy Award for the integration of solar systems at the new facilities.
The open days gave residents the opportunity to visit the new facilities and learn about treatment processes and the infrastructure's sustainable features. With over 500 residents participating in the initial open day in March, the April open day was expanded to include 'encore' tours of the Sewage Treatment Plant.
The new Water Treatment Plant boasts a 107kW solar PV system to offset power consumption, and a further 298kW was installed at the Sewage Treatment Plant and the Advanced Water Plant.
The combined 405kW solar systems saved $88,866 on grid electricity in the first year of operation.
By Maggi Barnard