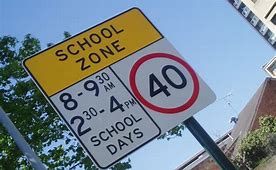 With the new school year starting this week, Parkes Shire Council reminds local drivers and parents about children's safety around schools.
"Children are vulnerable road users. They are at risk because of their size, their inability to judge speed and distance, and they may behave unpredictably," said Road Safety and Injury Prevention Officer, Melanie Suitor.
Drivers are reminded to slow down, pay attention and be patient as there are more cars, buses, cyclists and young pedestrians about. "When the orange (wig wag) lights on the back of a school bus are flashing, slow down to 40km/h as students are either getting on or off the bus."
"Parking signs around schools are there to keep children safe. You cannot stop in a 'No Stopping' zone. You can drop-off or pick-up passengers in a 'No Parking' zone as long as you are only there for two minutes and no more than three meters away from your car," said Melanie.
There are 40km/h school speed zones around all schools in between 8 to 9:30am and 2:30 to 4pm on school days. The school zone in Bushman Street is operational all day from 8am to 4pm. Police will be targeting school zones to
ensure drivers obey the 40km/h speed limit.