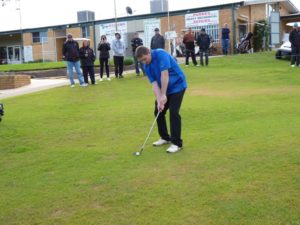 A brilliant return to form by Phil Barnard saw him take out Saturday's Whites Electrical 18 hole Stableford on a water logged Parkes Golf Course. Barnard finished the event on 38 points and had to survive a three-way countback from junior Lachlan Buesnell and Cameron Butler to take home the sponsor's trophies. The Ladies competition was more clear cut as Glynis Conroy and Cherrie Phillips had a 5 shot cushion in winning the Colleen Flynn & Dale Matthews 18 hole 4 Ball Best Ball Stableford event.
Despite bitterly cold westerly winds a field of 18 golfers contested Cunningham's IGA Scratch Shootout on Sunday.
At the conclusion of 17 holes it came down to a battle between two of the field's outsiders as Joey Van Opynen and Mark Kelly went up the 18th hole in an effort to reign. Kelly's tee shot missed the fairway and left him with a difficult shot over the trees from the edge of the 10th fairway, while Van Opynen was well placed despite a bad lie on the right side of the 18th fairway. Kelly played a magnificent wedge to pin high on the right side of the green but with a daunting 8 metre putt. Van Opynen gutted his second shot through the green and played a delicate chip within 50cm of the pin to guarantee a par.
Kelly's attempt at a birdie came agonisingly close as it shaved the hole and came to rest 15cm past the hole thus ensuring both players would rely on the sudden death chip off to decide the outcome. Kelly played first and failed to reach the green. This took the pressure off Van Opynen and he hit a magnificent chip shot to 30cm to take the title.
The Parkes Pennants team is playing the quarter finals of the Western Districts Ladies Golf Associations Pennants today against a strong Mudgee club at Wellington. Tomorrow members will contest an 18 hole Stableford for Peter Dixon, John Green and Mark Kelly's trophies in an event with a twist as it will be played under the Joker's Rules.
The Joker's Rules state each player has three Jokers and one Triple Joker during the 18 hole competition, however before a player can use a Joker they must nominate prior to hitting off on a hole if they intend to use a Joker. If a player decides to use a Joker the points they score on that particular hole are doubled and on a Triple Joker hole the score is tripled. The player who records the day's highest score is the winner. The Ladies will also play the Jokers rules during their 18 Hole Stableford event.
On Sunday the re-scheduled 2016 Mixed Foursomes Championships over 27 holes will be from 10:00am, sponsored by Liz Matthews.
By Paul Thomas