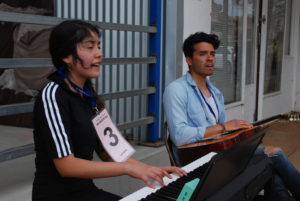 A war of sound burbled down the Peak Hill main street last Saturday when buskers battled it out at the regional finals of the Australian National Busking Championship.
The event saw a wide array of talented street performers strumming and singing their hearts out, each in the hope of earning busker dollars and tips from onlookers. Buskers were also competing for their share of the $4,000 in cash prizes and a place at the national championships in November.
Roaming judges assessed performances throughout the day and invited the best buskers to the day's final concert.
Buskers from Peak Hill and Parkes were not in short supply with some of them doing very well. Local Peak Hill band Almost A Dozen won the best band category and came third in the people's choice category.
Twelve-year-old Hanna Dunn from the Christian School won the primary age section, with another Christian school student Annabel van Wyk in second place. Hanna teamed up with Loic Monfret from Parkes and they won second prize in the open group section.
Other winners were Josh Maynard from Cowra in the open age category and Shelby Grace from the Wollongong area in the secondary age category.
Busking event coordinator Patrick Norris said: "The Australian National Busking Championship association is happy for Peak Hill to host the event again next year. It was a great success. It will only grow from here."
The event was an initiative of the Peak Hill Business and Tourism association with the support of the Parkes Shire Council and Peak Hill Council Consultative Committee. The Peak Hill Men's Shed served as volunteers on the day.
By Gizell van Wyk