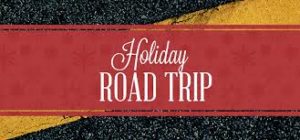 With the holiday around the corner we are all getting ready for our summer break. Wherever you are heading, you need to ensure your vehicle is safe and ready. You are not only ensuring the safety of your family, but also other travellers on the road.
Here are some safety tips to ensure you arrive safely and on time:
• Service your car: Make sure your car is serviced before setting out on that trip. Better to be safe than sorry.
• Insurance and registration for your car: Double check that your insurance is up to date, and with some people not always receiving their registration notices in the mail and no evidence on your car to remind you, check that your car meets all criteria.
• Chips in your windscreen? Why not get them fixed rather than run the risk of it cracking further when left out in the sun. It doesn't take long to get it repaired.
• Check all of your tyres, including your spare, and have your wheels aligned. Nothing worse than being stuck in the
middle of nowhere with no spare tyre ready to go.
• Keep your mobile phones charged, a first aid kit in the car and a map handy in case you get lost, either mobile or paper.
• Carry water and oil in your car at all times, you never know when you might need them.
• Ensure you have the correct child restraints in your car, and keep pets restrained as well for everybody's safety.
• Remember double demerits over the Christmas period, so do not speed, it's not worth the accident or fine.
NRMA estimates the busiest times to be the last day of school: 15th December; two days before Christmas 23rd December; the day after Boxing Day 27th December and January 4th. Enjoy your holiday!
Massive Sale At Tyreright
Tyreright Forbes is your one-stop shop for all your tyre needs. With everything you need for your ute, 4WD, family car, trucks, farm equipment and more. Look out for the massive Christmas tyre sale catalogue with loads of specials. If you need a service before the Christmas holidays, give the shop a ring and book now!