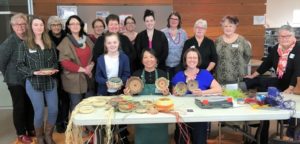 Weaving artist Lanny Mackenzie from Orange presented a weaving workshop at the Parkes Shire Library on Sunday.
The group of 15 had a great day working through morning tea and lunch to create their projects. Lanny primarily uses natural and recycled reclaimed materials. Participants used waxed linen, coconut husk twine and raffia,
and experimented with branches, lavender, grasses, palm tree materials, shells and other items to finish off their bowls.