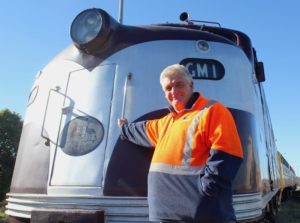 All he ever wanted to be was a train driver, but at 54 he has become the unofficial ambassador for the Australian railway.
Parkes resident Bernie Baker is not only the star of Australian Railroad, the highest rating local series in the Discovery Channel's history, but also can't keep up with the Facebook friend requests streaming in.
"It is hard work being popular," said Bernie who had over 800 requests since the second series went on air four weeks ago.
Bernie has taken me to his favourite loco-motive, a 1951 Streamliner, and standing in the crisp winter sun he is quick to point out "I just take it all in my stride. It is quite surreal at times," he says having a giggle about some of the 'requests' he gets from women.
"I used to live a nomadic lifestyle working all over the country and loving parties, but I met my wife in Parkes and we have three kids – it's the best thing that has ever happened to me."
The same passion for the railway that has made him such a popular character in the first series, drives him and his devotion to Parkes. "I love the town so much I want to be the Mayor."
But Bernie nearly did not make it into the railway. Growing up "down south in Mexico", all he ever wanted to do was to follow in his father's footsteps. "I could not get through school quick enough, but they did not want me at first because I was wearing glasses. So I joined the army."
He did realise his dream and Bernie remembers his starting date on 28th December 1982 very clearly. "Who starts a new job between Christmas and New Year?" When a friend showed him 34 years later they were looking for volunteer train drivers for the Railroad Australia program, his love of trains was still pumping strongly in his blood.
"I got used to having the cameras around all the time real easy," said Bernie. "The only thing I needed to be mindful of was swearing, as I did not want to be a 'beep' on TV."
For Bernie it is not about being a reality TV show star, he genuinely loves being a train driver and enjoys everything about it: the sounds, smells, phenomenal views, "especially of sunsets with a toasted sandwich in your hand. It is a wonderful job."
Like a true ambassador he hopes his passion would inspire young people to become train drivers. "It is a good, honest career."
The second series of Railroad Australia is currently screened on the Discovery channel on Thursdays at 7:30pm. The first series is on YouTube.
By Maggi Barnard