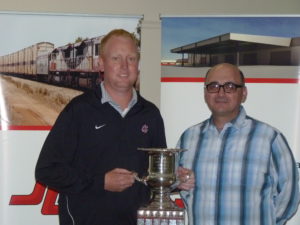 Forbes golfer John Betland followed in his brother's footstep and kept the SCT Logistics Parkes Open Golf Tournament crown in the family on Sunday. He survived a three-hole playoff against long-time adversary Robert Payne from Duntry League in the strongest field ever in the tournament's 43 year history.
After 27 holes of intense golf, Betland and Payne finished on one over par 107 and were forced into a three-hole playoff dominated by Betland. On the first hole both players missed the green and after playing deft chips Betland
calmly sunk his 2.5m putt, while Payne missed from 2m.
On the second hole Betland hit a massive 285m drive, while Payne's drive missed the fairway to the right. Betland played his third shot to about 5.5m and calmly sank the putt for a birdie 4, while Payne putted for a bogey 6. On the third and final required a miracle and hit a magnificent approach shot finishing some 3.5m from the pin, however Betland wasn't to be outdone as his approach found the green some 4.5m from the pin.
His birdie putt finished just 30cm from pin and he calmly sank the putt to secure his second SCT Parkes Open Tournament victory after winning in 2011. Betland and Payne said the Parkes Open was one of the premier country tournaments if not the best.
The Parkes Open proved to be one of the closest finishes as six players battled for the honour. After the initial 18 holes defending titleholder Steve Betland opened up a one-shot lead as he turned at 1 under par 70 to lead his brother John by a mere shot. Robert Payne and Justin Sutton of Parkes were one shot back while tournament favourite Mark Hale was a further shot away on 73.
By Paul Thomas