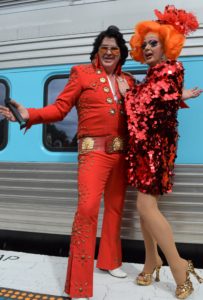 Two icons met in Parkes last week when the Silver City Stiletto train made a stopover on its way to the Broken Heel Festival. It was a case of Elvis meets Priscilla – Queen of the Desert! With 120 passengers on board, Parkes Shire Council grabbed the opportunity to promote the 2019 Parkes Elvis Festival.
John 'Elvis' Collins entertained passengers as they stepped off the train to give them a feel of the vibe of the Parkes Elvis Festival. Passengers were very keen to get selfies with Elvis (John Collins) and Priscilla (Maude Boate).
Maude is known as the Queen of Lismore's drag queens, and one of the celebrity queens of the Broken Heel Festival.