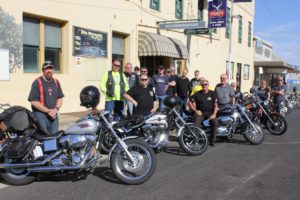 Around 50 bikers rode into town for the Big Ride 4 Parkinson's fundraising event last Saturday.
Arriving at the Cambridge Hotel late af- ternoon, there was one notable absence though. The event's poster boy Angry Anderson was absent due to an unfortunate double-booking. But for the dozens of bikers who came from Sydney via Mudgee, it was quite a ride.
For Richmond man Rudy Heynsdyk the ride is a personal challenge. He was diag- nosed with Parkinson's in 2004. He recently lost his father to the disease, although there is only a genetic component in 1% of cases. Rudy has undergone several procedures to alleviate his symptoms and takes regular medication. He is determined to live life to the fullest. "You've got to do what you can when you can," he said, "it's such a horrible disease."
Mark Atherton is the man behind the event. He started it five years ago to com- bine his passion for motorbikes with a posi- tive cause. He chose Parkinson's as he wanted to support a disease that affects men in the later years of their lives. "Everyone really gets behind events for cancer, so I wanted to do the same for a less visible disease." Tragically, just two years after he'd established the Big Ride, Mark's father was diagnosed with Parkinson's, so it's become a personal cause.
Parkes was the obvious destination; not only does it have great alliteration, but it's the perfect distance for a ride from Sydney. Not all riders came from Sydney. There were a few locals who joined them.
Parkes woman Natalie Madsen rode to Sydney on Friday for the Big Ride. Her mother has Parkinson's, so it's a cause she cares about deeply. "We've been wanting to do this since before we got the bike," she said.
By Raen Fraser