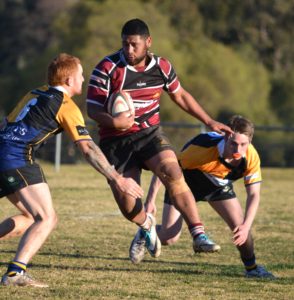 A strong start by the Parkes Boars was to no avail as CSU secured a much needed win for the season. Parkes led for most of the first half with tries to Ethan Kosef and Ben Powlay followed by a text book chip and chase by Ash Adams. Unfortunately poor kicking by Parkes and a late try to CSU put the visitors narrowly in the lead at half time: CSU 21 – Parkes 17.
The CSU fullback Robinson did most of the damage to Parkes scoring several long-range tries and providing a solid last line of defence. Parkes was able to make line breaks through Joe Nash, Ben Powlay and Ethan Kosef, but Robinson repeatedly made effective last minute tackles.
At the other end Parkes defended strongly with CSU getting through Parkes out wide, but try saving tackles by Jason
Lowe, Steve Taotua and Jon Rathbone kept Parkes in the game. Ash Adams had a great game and was named Players Player. Although known for his physicality as a loose forward at the breakdown, he added another string to his bow with a perfectly executed chip and chase to beat the CSU full back and score under the posts.
Another player to show his versatility was Dylan Hood. A surprisingly nimble front rower with an awesome side step showed he can also fill in as a very capable half back and is a real asset to the Boars. Once again a disappointing second half saw CSU adding another two unanswered tries bringing the final score to CSU 35 Parkes 17.
By Allan Ryan