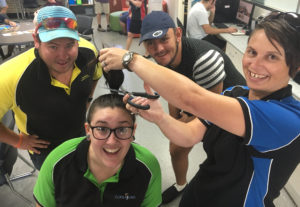 It is time for the Leukaemia Foundation's World's Greatest Shave and one Parkes  resident is going to need a lot of support today.
Trilbie Bermingham from Currajong Disability Services will be shaving her head at the Parkes Hotel at 6pm today to help raise vital funds for Leukaemia and cancer research.
The World's Greatest Shave, now in it's 20th year, is well supported by locals each year, and a big turn-out will be on hand to watch Trilbie lose her locks tonight. "So far I have managed to raise $570," said Trilbie. "I am hoping to add to that. There will be raffles on the night," she said.
Blood cancer is the third most common cause of cancer death in Australia with 35 people diagnosed every day.
For more information on how to donate or get involved go to www.worldsgreatestshave.com Good luck Trilbie! We are all very proud of you!
By Dane Millerd