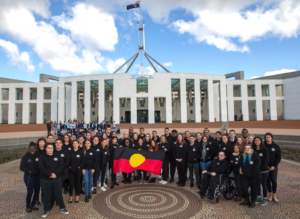 Brenton Hawken is an impressive young man. He has already accumulated an enviable portfolio of scholarships and nominations and he hasn't even finished university yet.
Last month he added another achievement to his already glowing CV when he was selected to attend the National Indigenous Youth Parliament (NIYP).
The Parkes Wirradjuri man was amongst 50 other young Indigenous Australians invited to participate in the week-long program, which was held at Old Parliament House in May.
"This had been a six-year goal of mine," he said. "I was overwhelmed with joy when I was selected."
Brenton admits that he is a very goal driven person. "I set myself a lot of little tasks and challenges and work towards them."
He can cross meeting the Prime Minister off his to do list. During the NIYP program he had the opportunity to speak with both Malcolm Turnbull and Bill Shorten.
"The real highlight was delivering my adjournment debate in front of Tony Smith, the Speaker of the House of Representatives," he said. "I learned a lot about Australian democracy and the parliamentary system."
Brenton said the experience has definitely helped clarify his ambition, and possibly helped shape it as well. "I'm very passionate about education, I wouldn't be where I am without access to such quality education. I can't speak highly enough of the teachers who helped me succeed.
"My ultimate goal is to be the minister for