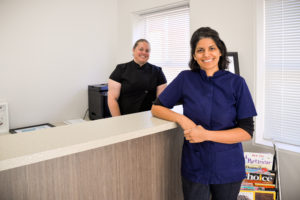 The oldest established dental practice in the Parkes Shire has a new and fresh look for the future. Richardson Dental Surgery has been a hive of activity over the past three weeks to transform the 50-year-old interior at 19 Church Street into an ergonomically friendly and comfortable space.
"We wanted to welcome our clients into a friendly and spacious environment to help ease the stress of visiting the dentist," said Dr Khazima Riaz. Everything is new, including a mobile friendly entrance for people with walking frames and coloured dentist chairs in the two identical treatment rooms. Khazima said the renovation was planned
around utilising space more effectively to allow her practise to offer the best service possible. "We totally believe in preventative care, perform all aspects of general dentistry, as well as cosmetics and implants."
She had very good advice for people fearful of visiting the dentist: "It is very important to keep up with preventative care to avoid any major dental issues, which is usually more stressful than a regular check-up." So if you have not scheduled your checkup yet for the new year, pop in and enjoy the fresh and modern look of Richardson Dental Surgery.