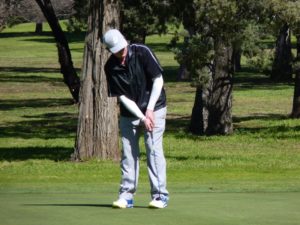 Cameron Butler emerged as the big winner in the final of the 2016 Handiskins competition at the Parkes Golf Club last Sunday. Handiskins has been defined as the ultimate game for amateur golfers as it is one of the few competitions where amateur golfers get to play a game of skins golf.
Skins golf is where a group of players compete against each other with the player who records the best score on a hole being the winner of that, however if two players have the same score the hole is squared with the following hole jackpotting. Players did not only battle against the cool weather but also the remnants of an early morning frost at the start of play. It was veteran Ian Phipps who collected on the 1st hole with an easy par.
The Par 5, 2nd Hole was squared by Wayne Butler and Robert Cheney with pars, while on the 3rd hole Cameron Butler exerted his presence with a solid par for his first bank. With holes 4 to 12 being squared, the players felt added pressure as they were playing for $560 on the Par 5, 13th and once again Butler showed his class as he recorded a birdie 4. On the 14th hole players felt the pressure level drop but once again the hole was squared, while on the Par 3, 15th hole it was Ian Phipps who snared the cash with a great par.
The 16th hole became a battle between Robert Cheney and Cameron Butler with Cheney winning. Cameron Butler collected $740 in vouchers with Ian Phipps collecting $300, Robert Cheney $120 and Wayne Butler $40. Last Saturday a field of 82 men and women contested the Parkes Readymixed Concrete 18 hole Medley Stableford for the Don Smith Memorial Trophy with a surprise victory by close friends Peter Boschman and Tony Evans with 44 points.
Nominations for the 2016 SCT Parkes Open Tournament and the prelude event the Atlas Copco Australia Open 4BBB Stableford in Scratch and Handicap, which will be played on 17th and 18th September, are now open. It will be the strongest field yet on record.