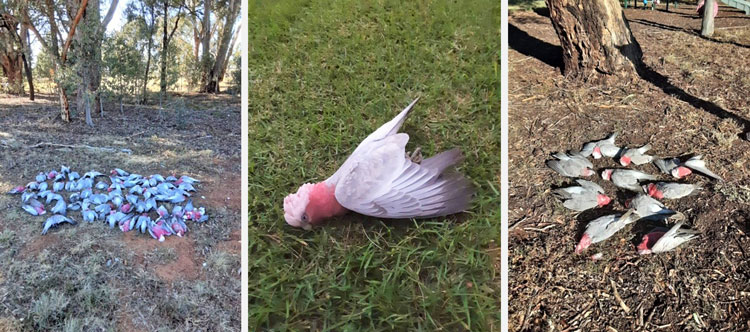 The mouse plague has not only been devastating for farmers and households, but the pesticides are sadly starting to take its toll on wildlife.
More than 100 galahs have been found dead at the Parkes cemetery where a large flock roosts in the trees, while over 200 dead birds have been reported in Forbes over the past month.
WIRES volunteer in Parkes, Kelly Lacey said it was not only galahs, but also cockatoos and corellas affected by mouse bait. Parkes vet Daryl Elphick said he has had to treat numerous household cats and dogs since the outbreak of the plague.
"I have looked after hundreds of injured birds over the past five years through my work with WIRES, and the current situation is very hard for me. It is just devastating," said Kelly.
The bird deaths lead to an investigation by the NSW Environment Protection Authority (EPA) around Forbes, Parkes, Dubbo, Narromine, Condobolin and the Riverina. Toxicology results have confirmed some of the bird deaths were caused by baits.
"The EPA understands regional communities are facing a difficult situation and that everyone needs to keep their families, community and the environment safe, and that the need to control these mice to protect homes, families, pets, properties and wildlife is paramount," said EPA Executive Director Regulatory Operations Carmen Dwyer.
She did call on the community though to use pesticides very carefully. "To keep the families, community, wildlife and the environment safe, registered pesticides should only be used according to directions on the label.
"The safe baiting of mice is an important step in reducing mice numbers and pesticide users must make sure they handle baits safely and are careful to always follow the directions on the label to protect their family, neighbours, domestic animals, wildlife and the environment from harm."
Carmen said mixing and blending pesticides could seriously impact health, family and pets. "Please only use pesticides as directed on the label."
"Grain eating birds can be impacted after eating the pesticide coated grain," Carmen said. The Parkes vet said he had to treat a dog two weeks ago who had eaten a dead swan that had eaten pesticide covered grain.
"Our advice is to think carefully about where the bait is being placed, and only use the recommended amount of bait," Carmen said.
Kelly said when the birds eat the poisoned grain, they started to bleed internally and there was not much that could be done for them. She cautioned the community to not touch sick or dead wildlife. "They produce a toxic gas in the stomach that is poisonous to humans too."
Kelly is very concerned about the NSW government's announcement of the distribution of 10,000 litres of bromadiolone as part of a $50 million mouse control package. "If the bromadiolone is approved by the Australian Pesticides and Veterinary Medicines Authority, it will kill a lot more wildlife, including all reptiles."
If there are more than five dead animals of the same species, please make a report to the EPA's 24-hour Environment Line.
If you suspect a family member has been affected by a pesticide product, call the Poisons Information Centre on 13 11 26.
Anyone with a concern, knowledge of an incident involving pesticide misuse or seeking further information can contact the EPA's Environment Line on 131 555.