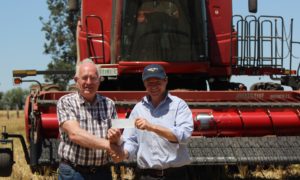 It is not every day that the growing of canola results in money donated to a disability service provider, but it is exactly what happened in Parkes this week. Currajong Disability Services received $13,000 from the Manildra-based canola processing company MSM Milling. The donation formed part of a charity partnership that saw the company team up with local farmers to grow the speciality canola variety Monola.
The partnership was launched earlier this year to Parkes and Condobolin farmers as a means of helping them assist Currajong Disability Services raise funds to keep operating in the two towns. MSM Milling vowed to donate $10 per hectare of Monola planted by farmers followed by a bonus $5 per tonne payment for each tonne of Monola delivered to MSM. MSM Milling's General Manager Commercial, Charlie Aldersey, said participating farmers sowed 1,300 hectares of Monola. "Many of the board positions at Currajong are filled by local farmers and we saw it as the logical way to help the charity," he said.
Charlie said the $13,000 was just the beginning of the funds that would be realised as Monola seeds would be arriving soon for the next instalment. The money will be used to help establish a jujube, Chinese date, orchard in Parkes, which will provide employment to disabled clients. The Chairman of Currajong Disability Services, Neil Unger, said the jujube trees were planted in August.
"The orchard already has 500 trees and we hope to plant more. This funding will really help us get it off the ground. Without the support of businesses like MSM Milling, we wouldn't be able to undertake new projects like this," Neil said. Parkes district farmer, Peter Barber, planted 150 hectares of Monola. "We're just starting harvest and already we've found that the oil content is very high, which is extremely pleasing."