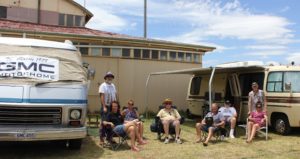 While the Parkes Elvis Festival celebrates its 25th year, this year's festival is a first for the GMC Motorhome Rally. They chose the silver jubilee festival as the destination for their inaugural Classic Motorhome Downunder Rally. The vintage motorhomes might not be as universally known as their counterparts, such as the Kombi campervan, but
they're no less loved. The purpose-built motorhomes have a dedicated following of enthusiasts, who view the retro camper as 'A Big Hunk O' Love'.
General Motors built about 12,000 of the motorhomes in the USA between 1973 and 1978, and these classic campers now have something of a cult following, with dedicated fans travelling to rallies across America. However, the 40-year-old motorhomes are rare in Australia with only 18 in the country, so it is quite a treat to have a handful of them converge in Parkes.
The rally organiser, Gail Bennett said Parkes was the obvious choice for the event as the town is virtually bang smack
in the middle of Brisbane, Adelaide, and Melbourne, and when they decided to meet at Parkes there was no question that they wouldn't coincide with the Parkes Elvis Festival. "The motorhomes have such a classic, retro look, they really fit in with the era," she said. "And besides, I'm a massive Elvis fan."
Gail and Mark Bennett have had their GMC Motorhome for 12 years, and have already travelled 54,000km since they bought it. The Queensland couple regularly drive to Canberra or Tumut, and the convenience of the motorhome makes regular monthly trips easy to manage. Gail said the vehicles were built on a purpose-built chassis with an engine at the front, so they're lower to the ground than similar RVs, and they handle better. But for Gail, the main appeal is the aesthetics. "They just look really good," she said. "We get lots of attention and thumbs up when we're driving up the highway." The GMC Motorhomes are camping together at the Parkes Showground, and two will feature in the street parade, with another in the Cars of the Era show, where members of the public can check out the vehicles 'For Ol' Times Sake'.
By Raen Fraser