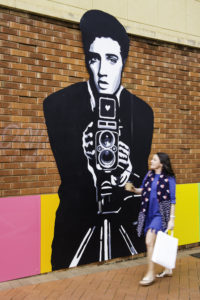 Welcome to all the visitors to Parkes Shire for the 2018 Parkes Elvis Festival! Pop on your blue suede shoes and take
some time to explore the Parkes Shire and discover the colourful, fun and interesting attractions and landscapes that all add up to making your visit to our region a memorable one.
Take a stroll through the Parkes CBD and soak up the vibrant character of the town through the Public Art Trail. Enjoy quality food and coffee at one of our fabulous cafes and restaurants and browse our unique boutiques and retail outlets. Take a trip to outer space with a visit to the iconic CSIRO Parkes Radio Telescope and discover history + culture at the Henry Parkes Centre (HPC), home to the King's Castle Elvis Exhibit.
Have fun + adventure at one of the many recreation areas and parks including Goobang National Park, or dig up some local history at the Peak Hill Open Cut Gold Mine.
Experience country hospitality and meet some of the region's friendly locals at the townships of Peak Hill, Trundle, Tullamore and Bogan Gate, all just a short drive from Parkes.
To plan your adventure to the Parkes Shire, go to www.visitparkes.com.au and keep connected via the Visit Parkes Facebook and Instagram pages. To keep up to date with Festival events visit www.parkeselvisfestival.com.au and
follow the festival's social media pages on Facebook, Twitter and Instagram. Share your festival experience with us by hashtagging #ParkesElvis #68comeback #VisitParkes.