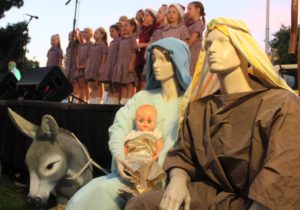 While hundreds of people flocked to the annual Carols in Cooke Park on Sunday night, a much smaller and more solemn gathering took place in Lions Park.
With beautiful weather in abundance, the Carols event had the biggest crowd ever to attend. As usual families had their picnic blankets out, children in Christmas colours ran around and the Parkes Shire Concert Band, school choirs and other singers performed.
Across town, the Parkes Chapter of the Compassionate Friends welcomed over 65 people to their annual Candle Lighting for a wonderful night of sharing in a safe place. A wooden Christmas tree was covered with loved one's photos.
Sadly, many new faces joined in from Parkes and areas around Orange, Dubbo, Canowindra, Trundle and Eugowra to remember their children, grandchildren, brothers, sisters, husbands and friends who will not be at the Christmas table.
Special poems were read and candles were lit from Mary McPhees's special candle. (Mary started the Parkes chapter.) Faith Setiawan and her sister Savannah-Lee sang a special song that Faith wrote for their friend Michael Meluish whom they lost this year.
Whether it is one year or many years the pain at times like Christmas or birthdays or anniversaries can be immense.
Special thanks to Judy and Tony Fisher for organising the night with a lovely booklet of poems and angels with a meaningful verse to hang on their Christmas tree in memory of loved ones.